20 Easy and Cheap Foods On a Budget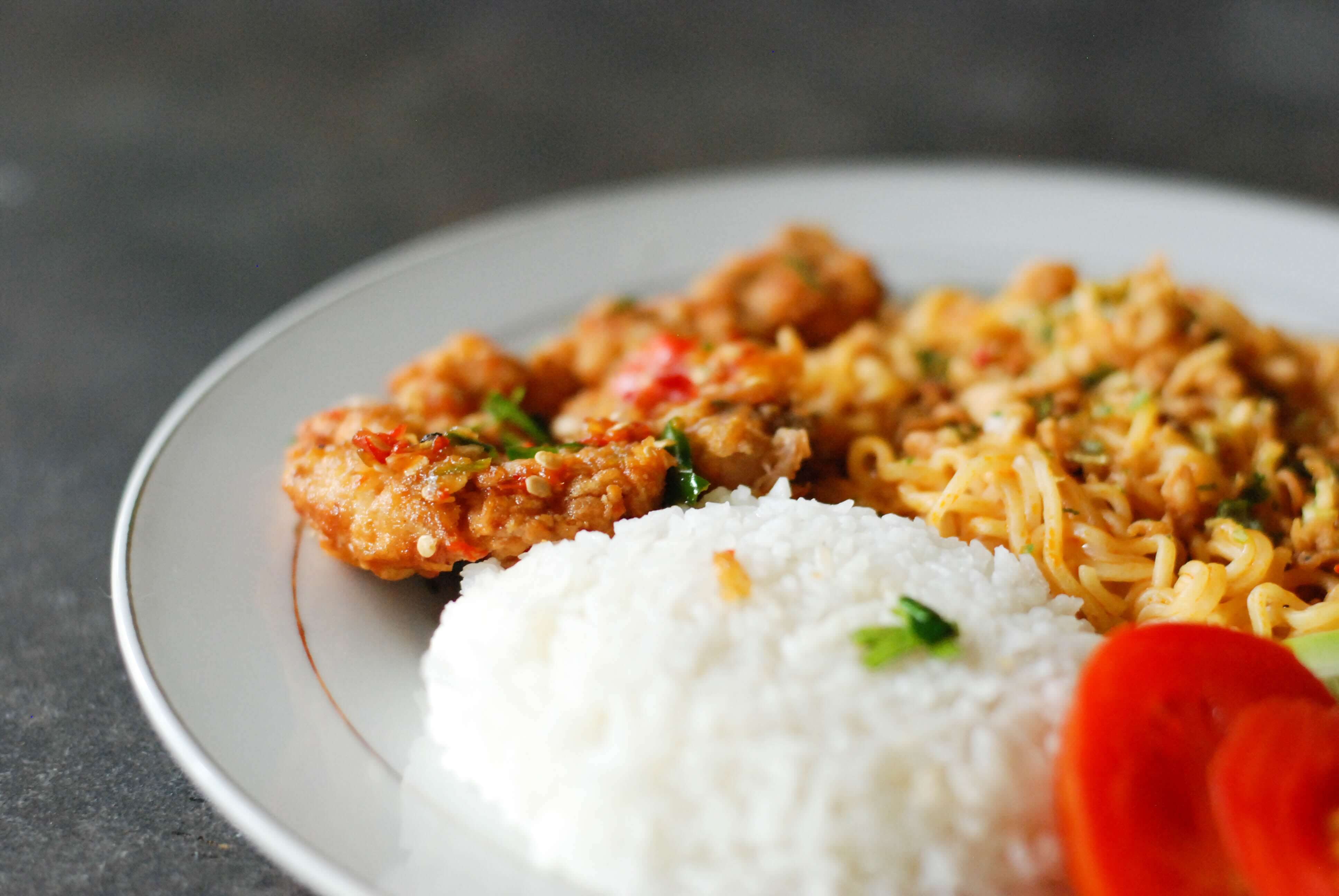 20 Easy and Cheap Ways You Can Eat Tasty Food On a Budget
October 27, 2021 | Forest Pointe | Apartment Tips

Not everyone who chooses to live in an Apartment Community is on a budget, but let's face it, almost all of us are. No matter where or how you choose to live, budgets help us stay on track with our spending and in our lifestyles. Cooking alone can be daunting and even more so the dreaded grocery shopping. In this blog, we will give you tips and tricks of easy meals to make, what type of groceries and foods to buy that will have longevity, and foods that can be relatively healthy for you, so you are not continuously eating processed foods.

Are you a picky eater? Unsure how to budget? No problem, we will cover that too! Sit back, relax, and grab some food as you snack your way through these 20, yes, we said 20 tips and tricks you can use to buy groceries on a budget.

Where to begin
So, where to even begin? Before we can dive into what kinds of foods are budget-friendly, let's talk about where we can find them! We have one great piece of advice. Stick to the insides of the grocery store. On the insides, you will find your beans, rice, oatmeal, crackers, tortillas, bread, and other easy and gut filing items. Granted, we won't tell you to not eat fresh produce, and fruits, and veggies but if you are on a tighter budget, we wouldn't recommend shopping the perimeter of the store until the end of your trip to see where your total is at.
Cheapest Foods to Live On:
Oatmeal
Eggs
Bread
Rice
Bananas
Beans
Apples
Pasta
Fill me up
Again, while fresh produce might be best, you're on a budget. You will want to purchase cheap foods that are filling! Oatmeal, rice, beans, bread, and other starches are filling and will keep you full until your next meal. Beans and rice are also super versatile foods, and you can take them and transform them into easy meals you will actually enjoy! Oatmeal, too you can add fruit and honey too, and you've got a delicious and filling breakfast.

Filing Fruits
Bananas, Apples, Oranges, and kiwi are not only cheap but filling. Bananas and apples we recommend adding a heavy dollop of your favorite nut butter or peanut butter for an even more filling treat or snack. Oranges and Kiwi are juicy, and not only will the fruit fill you, but the juice will quench any thirst as well!

Beans and rice for life
You've heard the saying – "If you're on a budget, looks like you'll be eating rice and beans!" But truthfully, there are many different ways you can eat them. Our personal favorite is using them both in a Mexican bowl! A can of black beans and a bag of minute-ready (in the microwave) rice make for a great (and cheap) base of this bowl. Add on top cheese, a protein of your choosing, salsa, and sour cream and you have got a hearty and delicious meal. Make extra's and you've got a few meals out of it! Don't have toppings for a Mexican bow, take the rice and beans, sprinkle cheese on top and some garlic powder, salt, and pepper and it makes the perfect and easy filling inside a tortilla!

Wrap it up
Nothing is easier or more budget-friendly than tortillas. You can throw anything in it and call it a "wrap"! Let's start easy – a cheese rollup. Simple, basic, yet delicious. Sprinkle your desired amount of cheese on your tortilla and throw it in the microwave for about 20 seconds. Roll it on up and, boom! If you're feeling "fancy" you can even dip it in ranch or salsa. Next up, the avocado, cream cheese wrap, a personal favorite of mine.

Take your tortillas and spread some cream cheese on them. Then add your sliced avocado, garlic powder, or even the infamous everything bagel seasoning! This wrap is creamy savory and satisfying! Our last wrap hack – peanut butter delight! Spread peanut butter of your choice, and sliced bananas on a tortilla. Eat it as a wrap or you can slice it and have "banana sushi"! Easy, quick, cheap, and filling.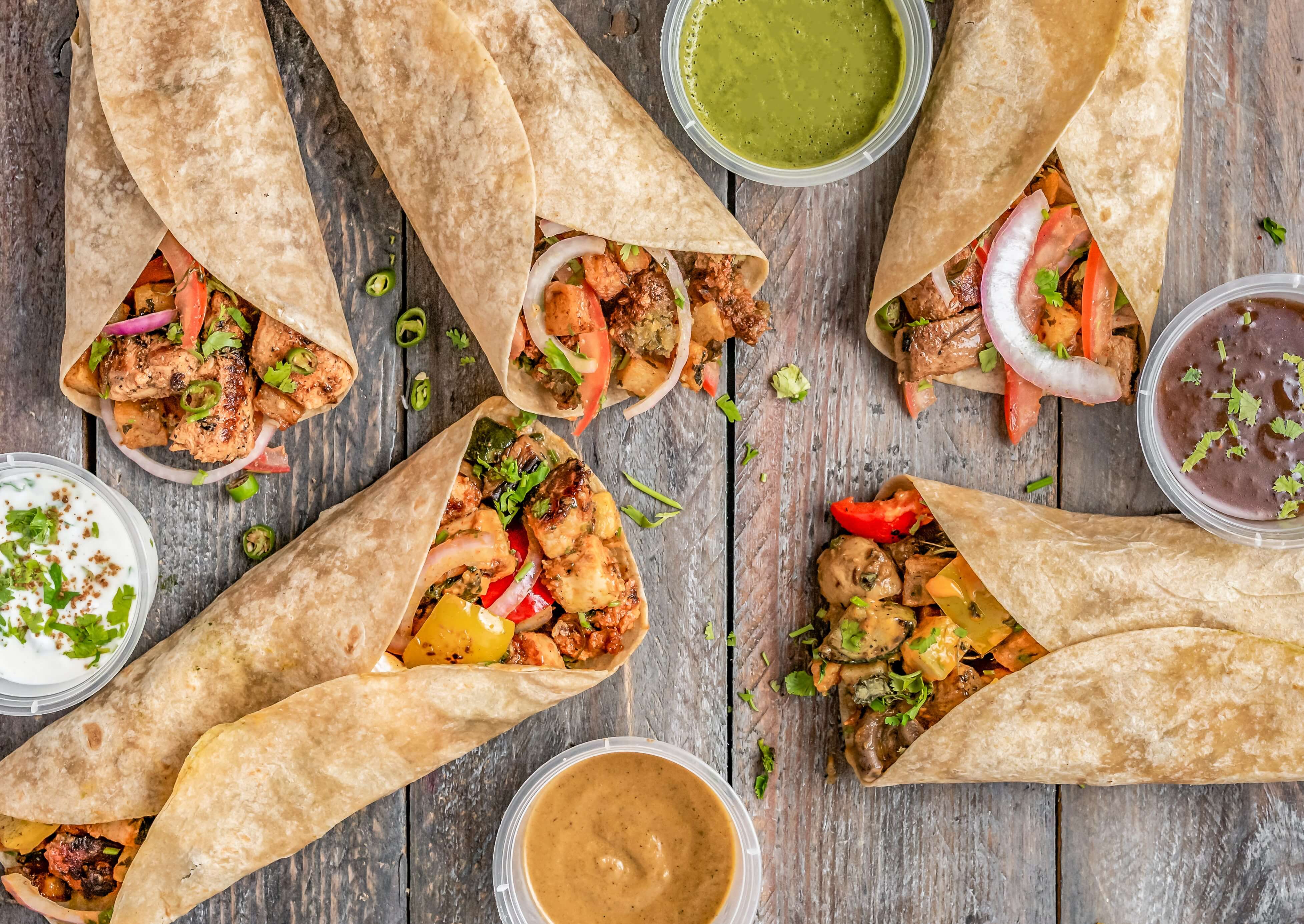 I'll make a salad…tomorrow
Whether you're trying to eat a little healthier or salads are already a strong player in your weekly meal rotation, we have great ideas for you to toss up the greens – totally pun intended. Salads are a great way to get your greens and plant-based nutrients into your body all while saving money in your wallet. Premade salad kits are all the rage these days and you can get flavors from your classic Caesar to avocado bacon ranch, tex mex, Asian cashew, sunflower poppyseed crunch, and the list goes on.

These salad bags are always on sale, and you can buy 3-5 bags for a bundled price. Want to save even more cash, buy the old fashion yet old faithful head of ice burg lettuce, and add any toppings and dressing of your choosing. Adding a protein on top like chicken or shrimp makes these salads go from drab to fab and leaves you filled up and your budget on course!

Soups on for all!
Canned soup - need I say more? While we all would much rather devour homemade soup that our family members make or even that we make, sometimes we have to stew (we did it again) over the fact that buying fresh ingredients for homemade soup is expensive. To stay on the cheap course, a can of soup from your local grocery store is sometimes just as good, and even more nostalgic. Let's channel our childhood days and heat up a can of creamy tomato soup, or the infamous chicken noodle. Pair that with an ooey-gooey kraft single sliced grilled cheese and you have a match made in budget heaven!

For the picky Patti's and Pete's
Well – so far this blog is made up of easy, non-fussy foods for the budget-friendly resident, but if you still cringe at the thought of some of these food ideas, fear no more. We have got you covered. Cereal. It's crunchy, crave-able, and with the added milk of your choosing, not too terrible for you. Cereal can be eaten not only for breakfast – we can't be the only ones that eat it for dinner, and we definitely can get behind eating it as a late-night snack. Cereal is great for the budget-conscious as just about every type of cereal has an "off-brand" that is easily dollars cheaper than the name brand.

Fast food, but on a budget
Even though, typical fast food is inexpensive we want to try to avoid that altogether. It is quick, easy, and cheap to make your own "fast food" or "on the go" foods that will leave you filled and satisfied. We have 2 words for you "adult Lunchable". These lunch or snack packs are easy and can be relatively healthy and are easy to assemble and eat while on the go for a busy lifestyle. Find a meal prep container that has different separated compartments. Pack yourself rolled lunch meat, fruits or veggies, cheese, and crackers and you have lunch and snacks ready to go.

To save even more money, save those take-out containers and wash them! Not only will this save the planet from more unnecessary plastic going into landfills, but you'll save money on buying tuber ware.

Breakfast, but make it quick
Not everyone has the time in the morning to sit down for a full-out breakfast. Our fix for eating on the fly – cook, and freeze! You can buy off-brand pancake or waffle mix and have a cooking party on Sunday afternoon. Cook your breakfast food, let them cool, then put them in freezer-safe bags and freeze! Take one or two out each morning, microwave for a minute and you have pancakes or waffles, on the go! This will keep you accountable and your budget happy that you are not grabbing breakfast from a fast food place every morning.

Buy in Bulk
Costco and Sam's Club – say hello to your new best friends! The membership fee is low in cost for an entire year, and within your membership, you get unlimited shopping at all the bulk prices. If you are on the rice and beans mantra, you can get a case of rice and beans and be set for months. This is the same for canned fruit and other veggies, frozen foods, beverages of any kind, as well as just about any dry foods or nonperishable items like crackers, chips, snacks, etc.

Shop who costs less
We all have our preferred method of where we like to shop, but when we are on a budget, a lot of times we, unfortunately, do not have the choice or option of going to the more upscale grocery stores. We recommend starting at your local Aldi. At Aldi, you can find just about everything you would at your competing local supermarkets but for a fraction of the cost. At Aldi, you can also find any dietary needs like Gluten Free products, vegan foods, and fresh produce. Aldi can be found nationwide and in most of the 50 states.

Bowls on Bowls
Do you want cheap and hearty meal ideas that you can eat at any time of the day? We have you covered. Bowls are great options - they are buildable in ingredients and can keep you full and satisfied. Let's start with one of our favorites – Mexican bowls. Layer your cheap, 90-second rice with black beans, cheese, taco meat of choice, fajita veggies, and salsa and you have a delicious meal, with cheap ingredients.

Next up, the riced broccoli and chicken bowl with soy sauce! If you eat and cook with broccoli often (we recommend!) you can buy frozen broccoli in individual servings in bulk at Costco! Layer your rice, broccoli, and top with chicken soy sauce and other seasonings and you have a quick play on "stir fry" all while beating the price of take-out!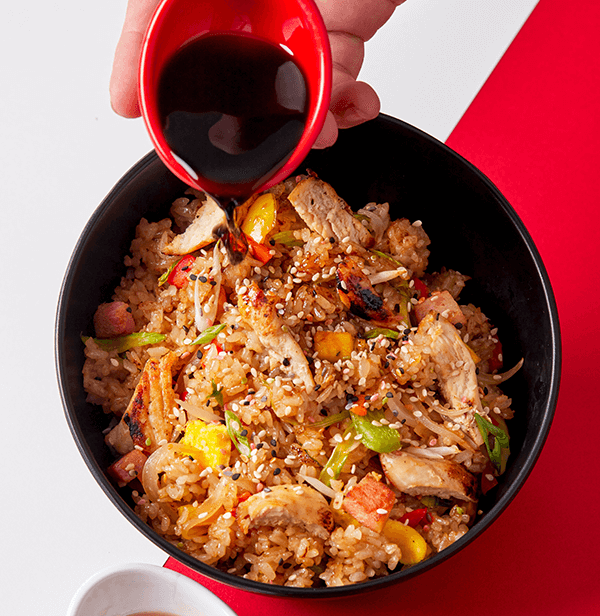 Sweet in taste, sweet on the wallet
Back to foods that are cheap, healthy, and filling – the sweet potato. Go ahead and wash your sweet potato, poke a few holes in it, and wrap it in foil and throw it in the oven for about an hour at 400 degrees. You can top your potato with butter and a dash of cinnamon or load your potato up with broccoli and cheese! No matter how you choose to eat this sweet pot, you can be sure it'll be tasty, and that they will be on grocery budget replay!

Pasta-tively, cheap!
Pasta is cheap! You can find it anywhere and you even have the option of choosing your pasta shape! Pasta is on our list of cheap foods, and it is a food you can make in many ways. Generic red sauce, alfredo sauce, baked pasta, ravioli, mac and cheese, and much more. You can add any protein or veggie to your pasta dish and call it a pasta-rrific cheap meal.

Sharing is caring
Live with a roommate? Split the cost! Make your grocery list ahead of time and if you and your roomie are relatively on the same schedule, plan to make one thing for dinner and both eat from it – even if it is at different times of the evening. Go grocery shopping and split the costs of what you purchase to make your meals. This will help your wallet and you won't have so many leftovers to try to deal with.

Incentivize yourself
Do you struggle to stay on a budget? Food is tempting in many ways. It is one of those things that make us feel happier when we are sad and can be something we look forward to and can brighten our days. If you are struggling to stick to your budget and are used to buying food out often, set goals for yourself. Make coffee at home all week and splurge on your favorite Starbucks drink on Fridays. Pack your lunch daily and treat yourself to lunch out on Wednesdays (halfway through the week)! These goals will help your budget and wallet, but also not make you feel deprived of the things you want.

Make a list and check it twice
Stay on a budget better by making a list prior to grocery shopping. This way you are hopefully not tempted to stray from your list. Also, a pro tip – do not go to the grocery store when you are hungry, you will want to buy everything and anything that sounds good, despite the cost. Trust us, we've done it!

Budgeting 101
While we can't sit and cover all parts of budgeting for your grocery shopping, we can tell you how to get started. Figure out what you make monthly, and then break that up into smaller weekly amounts. Plan ahead too of what you have coming up during a 4-week month because some weeks and months will be lighter than others or busier than others and you may or may not need to do more or less grocery shopping. Keep your weekly shopping trips listed in a spreadsheet and save your receipts, tracking them in the spreadsheet so over time you have running details of how much you are spending.

You're welcome
While we are not the experts in any way, we hope these tips and tricks lead you to better budgeting and cheaper groceries. Remember, your meals and grocery lists don't have to be anything fancy, they just need to be practical, and fit into your budget. We hope you are now inspired to go shop and cook until your heart's desire!


---
Other Tips To Save Money When Grocery Shopping
Plan Your Meals For The Week Before You Go Shopping
Like we previously mentioned, making a list will not only help you save money in the store -Goodbye impulse buying!- but it also helps you remember to pick up all the necessary ingredients.

Buy Foods That Can Be Used in Other Recipes
When you plan your meals for the week, try to pick recipes that include some of the same items as others, that way you avoid waste and really get your money's worth!

Become A Member!
Some grocery stores offer coupons and special offers for members, so make sure to sign up! You might even build up points that can be redeemed for more special offers or money off!

Visit the Dollar Store
The Dollar Store is great for buying quality items for a lot less! You can get pretty much any cooking item necessary here that will hold up for a decent amount of time. Cooking trays, knives, plates, cooking oils, foil, etc, can all be purchased here for a fraction of the cost compared to other stores. Purchase most of your household needs here, like cleaning supplies to keep your apartment neat and tidy!
Testimonials
I moved in in 2001, so far many changes took place. I am planning to stay couple more years- I feel safe, taken care off in anyway. Friendly staff, I am happy as it is.

- Anonymous
I'm currently a resident at Forest Pointe, I love the staff. They are really helpful and understanding. I been here for almost 2 years just renew my lease.

- Anonymous
We are so excited to be residents here and we look forward to our months to come.

- Anonymous
The staff and maintenance are very easy to work with I lived there for 2 years and enjoyed every minute of it. If your not a trouble maker you will be just fine. I really miss my apartment there.

- Facebook Review
Cannot say enough kind things about the women in the office! Very kind, friendly and make you feel at home from day one. They host resident events every month and always keep us informed of any updates and even things happening in the area. The upgrade options are really cool too! So happy they have a nice fitness center too. I've even seen the manager cleaning it for us. Best part is the dog park and pet themed events! They always have treats for the animals and the humans

- Google Review