Entertaining in A Small Space
Entertaining In a Small Space: 11 Tips
December 22, 2021 | Forest Pointe Apartments | Apartment Tips

Tis' the season for holiday entertaining! One of our favorite ways to celebrate the holidays is by gathering with loved one's friends, and family. Being around people that make you feel loved and celebrated daily is a perfect way to ring in the holidays and the beginning of a new year! How do you fit all of those loved ones in one space? Smaller spaces make for more cozy and intimate settings, yes, but how do we accommodate more bodies in smaller spaces and not feel crowded. We have the tips and tricks for you to get your holiday entertaining started creatively and strategically!
11 Ways To Help Throw The Best Party
1. The More, the Merrier!
Usually, a guest list can keep the party smaller, thus taking up less space in your home, but in this case, forgo it! Yes, we said it. Invite as many friends and family over as you would like. Oftentimes, a crowded room full of love, laughter, and socializing is the world better than smaller circles that may not mingle or talk. After all, the holidays are meant to be jolly, not sad.
2. Have a Clear Vision
Before making your space, dcor, and menu all set in stone be sure you have a clear vision to follow. How will you organize seating? Where will your menu and food be displayed and set up? Do you want a full sit-down dinner which in return takes up table space, or do you want a stand-up dinner with heavy appetizers? Options are endless, just be sure to have a clear plan of attack so you are not to stray or get overwhelmed in the planning.
3. Timing Sometimes Isn't Everything
Instead of making your party start and end at a specific timing, make it open house style! Having family and friends coming and going all afternoon or evening long will make it feel bigger and homier! The space will always be full of laughter and love at every hour of the event. This also leaves your guests not feeling pressure to stay for the entire party. After all, the holidays are one of our busiest seasons and schedules of the year!
4. Finger Food – the Best Food!
To avoid cramming your guests for a sit-down dinner, try standing with endless finger foods and appetizers! After all, it seems as though the traditional formal "sit down dinner" is out and the heavier, casual, "eat where you want" style in! Your guests will feel less crowded, and awkward in trying to find a spot to sit down.
5. Furniture – Make It Flexible
Whether you have plenty of seating to accommodate or barely any if you think your guests will want to sit, allow plenty of options. Couches, living room chairs, and dining room chairs are all the standard forms of seating but if your space does not accommodate a lot of space, we recommend the following: Benches! You can honestly borrow them from family and friends. They are easy to push right up against your walls to still have plenty of house space and when multiple people sit on a bench together, they might become fast friends! Anything on wheels is also helpful to move around with ease and to position furniture how you need it to be. Live in a one-bedroom or studio? Move your bed and position the pillows on the back wall – you now have an extra couch for additional seating!
6. Clean Out The Clutter
No one likes extra clutter. When you are doing your party prepping and cleaning, we suggest moving any additional clutter. Do you have an entryway bowl for a catch-all on your foyer table? Move it. Do you have extra photo frames on your coffee table or an excessive number of pillows on your couches? Move it all. You will want to open up your small space by making it appear larger than it is and by moving extra accessories will help you develop more surface area for either seating - or for wine glasses and dinner plates!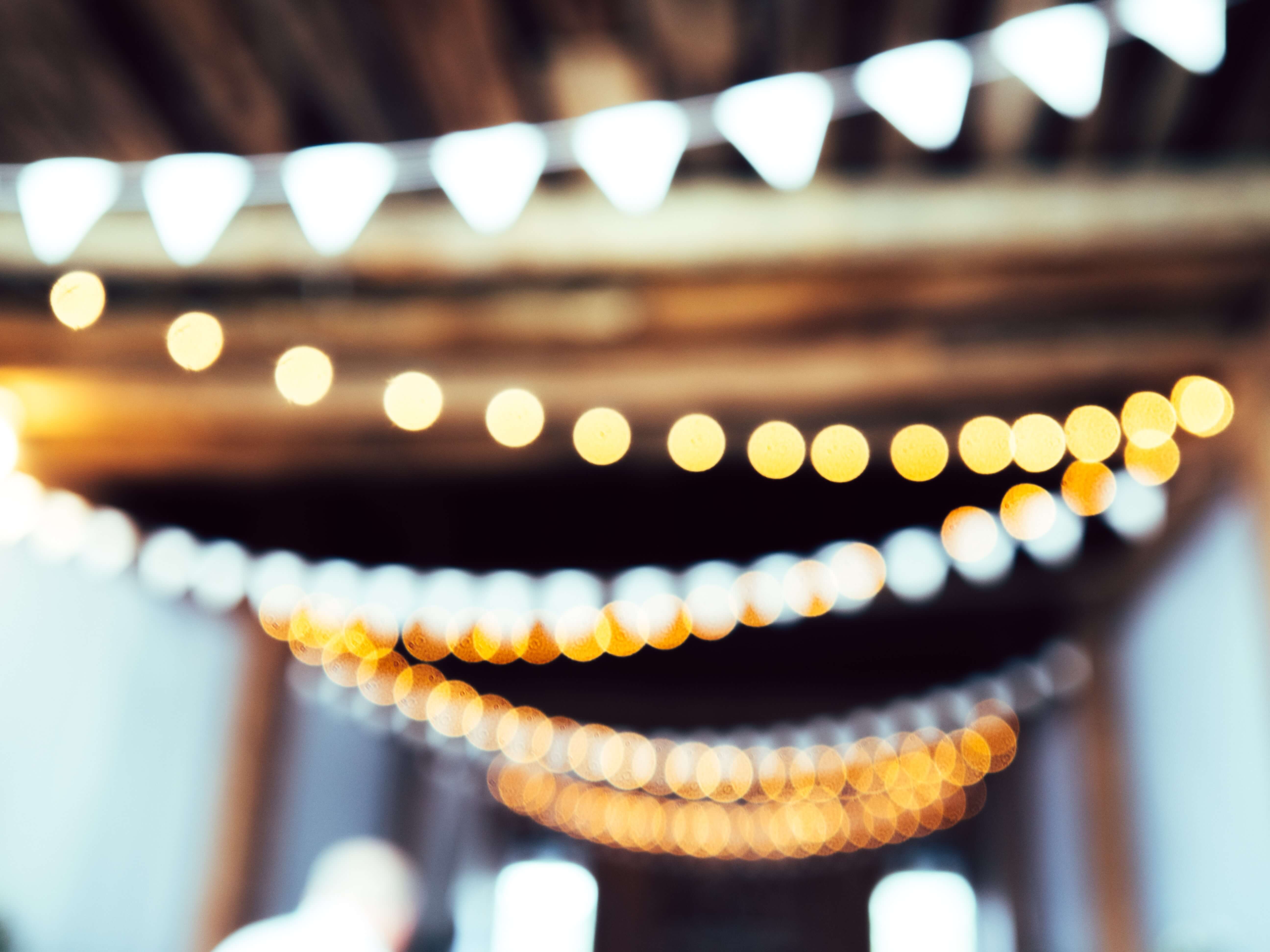 7. Blur the Lines
It's usually not conventional to blur the lines but in this case, we recommend it! If you are able to blend your party space from indoors to outdoors and it is weather permitting, do it! Open up the door to your balcony or patio that may attach to your living room. This helps create greater space and allows for the flow of mingling and traffic to flow! Take a runner and make sure it is positioned in between where your line is for going indoors and outdoors. It will connect the two spaces and make it feel like one big room! Utilize your patio or balcony as extra seating or dining space.
8. Spread It Out
And no, we are not just talking about the hummus, cream cheese, or spicy jams you may be using for your charcuterie board. We are talking about your food and drink placement. We suggest having multiple stations or places that your guests can obtain their food. Instead of overcrowding the kitchen, place food in your kitchen, on the dining room table, coffee table, and you can even utilize your bedroom desk as a cute little food station and your bed as seating! Make a cute little bar outside of your kitchen as well so guests can grab their beverages elsewhere. Having more than one place to obtain food will divide and conquer your crowds, thus opening up your space for entertaining.
9. Hang Up Your Coats, Wipe Your Feet
Whatever your household go-to rules may be, let one thing be clear and present – where to put coats, purses, and shoes? While some may wish to keep their shoes and purses with them, if you have carpet you may want to warn your guests that they will have to place their shoes elsewhere and to coordinate their outfits accordingly. Whether you hang some extra command strips in your entryway for coats (easy off when done) or add an added bench for shoes and belongings, it will free up your space in your home and will free up your guest's arms so they can do more mingling, eating, and drinking!
10. Small But Mighty!
Your space may be small but add in bodies and you have a heatwave! We recommend opening up windows if allowed and running fans prior to the start time fo your party. This way air will already be moving around and flowing and hopefully, your guests will stay as cool as possible. If you are where there is snow or cool temperatures, then your guests will probably enjoy the added heat from the cold and snowy weather!
11. Be Flexible and Improvise
When you are working with a smaller space you may not have the means to incorporate or do everything you wished for. It may not just be possible. In this case, be flexible. With your dcor, your food, your guest count, and everything in between. Be subject and willing to change at any minute. The more at ease you are and the more flexible you are, the easier your planning will be, and the day of your holiday event should be a breeze. You are also more likely to enjoy your event knowing you are not holding your reigns too tight.
We hope these tips and tricks are nothing but helpful when planning and prepping your holiday party in your home from start to finish! If there is anything you have taken away, remember the holidays are ultimately about spending time with friends and family, eating good food, and consuming delicious beverages. We hope your little home is full of lots of love and laughter this holiday season.
Testimonials
I moved in in 2001, so far many changes took place. I am planning to stay couple more years- I feel safe, taken care off in anyway. Friendly staff, I am happy as it is.

- Anonymous
I'm currently a resident at Forest Pointe, I love the staff. They are really helpful and understanding. I been here for almost 2 years just renew my lease.

- Anonymous
We are so excited to be residents here and we look forward to our months to come.

- Anonymous
The staff and maintenance are very easy to work with I lived there for 2 years and enjoyed every minute of it. If your not a trouble maker you will be just fine. I really miss my apartment there.

- Facebook Review
Cannot say enough kind things about the women in the office! Very kind, friendly and make you feel at home from day one. They host resident events every month and always keep us informed of any updates and even things happening in the area. The upgrade options are really cool too! So happy they have a nice fitness center too. I've even seen the manager cleaning it for us. Best part is the dog park and pet themed events! They always have treats for the animals and the humans

- Google Review